Hardware and software for pre-press

From data entry and workflow management to plate imaging, components from the Steuber range ensure your productivity right at the start of the process. Hardware such as plotters, imagesetters and servers are just as much a part of our portfolio as measurement technology and communication solutions. Software for the automation of production and administration processes and a comprehensive service complete our range.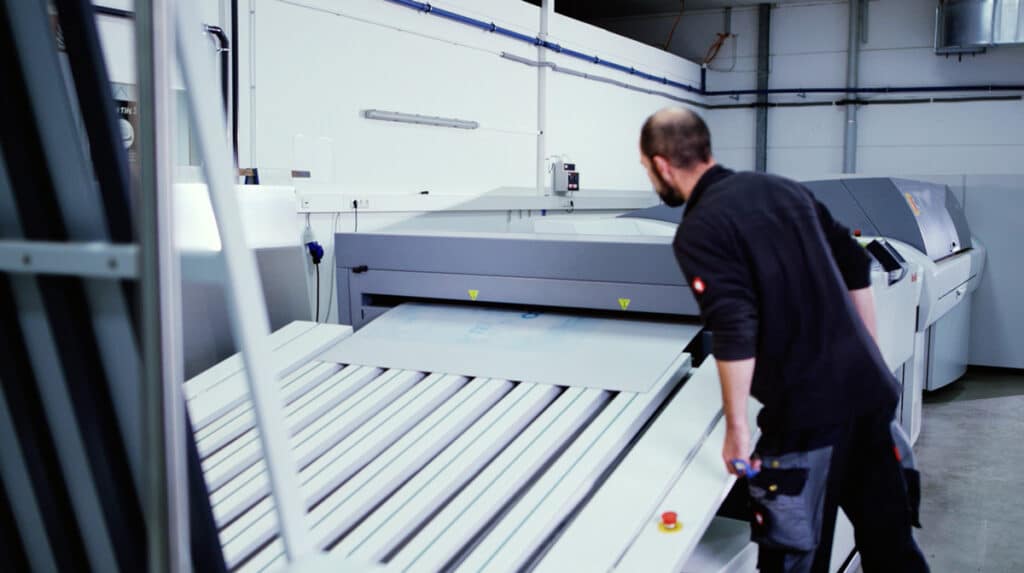 If colour-accurate proofs and cross-machine colour standardisation are indispensable in your pressroom, then you are in the right place with us. We produce concepts for you to create cost-effective colour and stand proofs with devices from EPSON and Canon and individual software solutions incl. measurement technology from Techkon and X-Rite. When implementing the media standard print, we will find the optimal way for you.
Network technology and network security
Data security plays an increasingly important role in companies. We support you in the implementation of a holistic security concept. You can increase the security of your systems against attacks from the Internet with a professional firewall from Kerio. Your servers and workstations are protected against viruses in heterogeneous environments thanks to solutions from Esel. A backup solution from Retrospect ensures that you can also restore accidentally deleted data at any time.
The constant accessibility of the IT infrastructure is vital nowadays. In the server environment, we rely on the manufacturers Dell and HP with their redundant server systems. In order to optimally utilise the computing power of these servers, various applications are virtualised on one system. This not only provides security, but also saves costs. Apple or Dell workstations are used in their preliminary stage? A suitable network infrastructure with gigabit or 10 gigabit switches is necessary so that work can be done at optimal speed.
We offer the right software (solution) for your requirements.
We supply and install any software used in the graphic arts and pre-press sectors - we are an Adobe-certified reseller, for example.
The best industry standard workflow solutions from Agfa, Kodak, EFI and Enfocus are the basis on which we implement your individual special requirements - right up to custom programming. Are you looking for an elegant way to transfer, check or remotely release data? Would you like to network a web shop with your production? Do you need a workflow island solution to create a structure that can be automated? We are your reliable partner for new installations, updates or trade-ins. - Including the complete hardware infrastructure.
In addition, we offer various customisable training courses:
Training of new software or workflow solutions
Product training in-house or at our premises
Individual training depending on needs and requirements
Contact the pre-press team now
Would you like further advice? Our contact persons are ready.
Install Teamviewer for your remote support now.
With the free Teamviewer software, you enable our service team to access your system remotely. In this way, we avoid on-site technician deployments and reduce your downtime.